Cyprus Villa
There is so much to see and do in Cyprus, It offers a host of activities all year round for all tastes and budgets, such as Scuba diving, Water skiing, Windsurfing, Golf, Horse riding, Water parks, Beautiful blue flag beaches, and much more. Over the past three years visiting Villa Athena I have ample opportunity to sample the local restaurants and beaches and general things to do, I am aware that everyone has different tastes however here are some of my top 10 Must Do's nearby to Villa Athena.
1. Cyprus Villa – Accommodation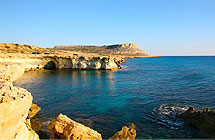 Cypriot hospitality is legendary, and you'll be given the warmest of welcomes in Cyprus. From the basket of fresh fruit and bottle of wine you may receive on arrival to your cyprus villa, to the attentiveness of staff and friendly service, everything is geared to make you feel at home.
You will find reasonable rates and every type of cyprus villa to suit a wide variety of preferences and pockets in Cyprus, offering you great value for money.
Whether you prefer to lounge around in the lap of luxury at a five-star cyprus villa right on the beach with every amenity, including health centre and spa, or if you choose a cyprus villa with pool for independent flexibility, or even a quiet hideaway in the hills in a simple family-run cyprus villa for a back-to-nature experience, you will find what you want on the island. Whether mountains or beach, city or countryside, the island can accommodate you.
2. Cyprus Villa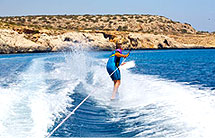 The beach at Konnos Bay is stunning with crystal clear shallow water which is ideal for swimming and on the edge of this cove is a whole range of water sports on offer from water skiing, pedal boats, para sailing, snorkelling, kayaks, wake boarding, jet ski hire and banana boat rides providing hours of fun, you can also charter your own boat. As a water sports enthusiast I had put this in my top ten. See mike's water sports 10 mins from the villa.
There are also watersports available within walking distance just off Kennedy avenue in Kapparis.
3. Romantic Cocktails, Cape Greco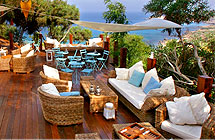 If you're looking for the perfect romantic sunset then this is for you, The Cliff Bar in the 5 star Grecian Park hotel, Situated at Cape Greco only ten minutes away from Villa Athena.
It has the most stunning views of the coastline and you can sit in the comfort of soft cream sofa's looking at the most breathtaking sunsets whilst sipping on your favourite cocktails it's a small bar tucked away hidden in the edge of the cliff, It plays gentle music and has a lovely cosy feel, the service is excellent and is perfect for pre dinner drinks.The prices are average for cocktails as anywhere on the island, the address is shown below and if you having dinner afterwards why not try the UMI Japanese Sushi Bar which based is in the same Hotel, see below.
.
4. Sushi Bar Restaurant, Cape Greco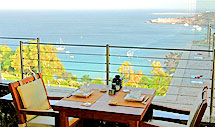 UMI Japanese and Sushi Bar Restaurant
After your fabulous pre dinner drinks in The Cliff bar as mention above, The UMI Japanese and Sushi restaurant is the icing on the cake for a romantic evening, this restaurant has amazing views of Cape Greco if you arrive before sundown and it serves fresh amazing Sushi and has an exquisite menu because of its high standard its recommended you reserve a table. The opening hours are 19.00 – 22.00 the contact number for the hotel to book your table is
Location:
Ayia Napa-Cape Greco, Cyprus
Postal Address:
P.O.Box 33498
5314 Paralimni Cyprus
Phone:
+357 23 84 40 00
5. Faliros, Restaurant, Kapparis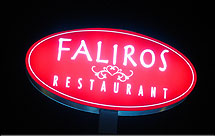 This is the best regarded traditional Greek restaurant in the area with locals coming in from differnet areas to enjoy this award winning restaurant. Faliros is only a stones throw from Villa Athena. I have eaten here a many times now and they still delight my discerning pallet. I would recommend you opt for the Meze and the Lamb is just perfect! It is always full of Cypriots and ex-pats which is always a good sign. It is fabulous in decor and has a great atmosphere.
Faliros is great value for money, it holds a Live Music and Greek dancing every Thursday evening, for a cheaper option check out the specials board on a Friday. This great restaurant is just 2 min's walk from Villa Athena situated on Kennedy Ave.
6. Water Parks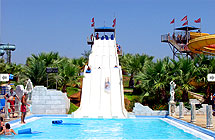 The closest water park to Villa Athena is Protaras but the biggest and by far the best is Water World in Agia Napa only a 15 mins drive from Villa Athena, This is an award winning water park and the largest in Europe its theme is based on Greek Mythology which features high speed, High Trills, and adrenaline rides also a large lazy river and huge wave pool, There are lots for the little ones and all ages are catered for and well worth a visit for a great day out, so don't feel like you need little ones to take a visit because its great fun.
Tickets are approximately 32 Euros per Adult and 18 Euros per child (12yrs and under), However if you pre book your tickets you can normally get a better deal, the park opens at 10.00 am, May-October and height restrictions apply.
7. Shopping and Brunch in Paralimni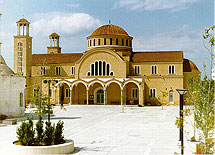 There is no better excuse to go shopping than on your holiday and a visit to Paralimni is the best local town to do this, It has lots of shops ranging from Marks and Spencer, unusual boutiques, high fashion shoe shops to local produced linen stores.
Paralimni Is a small local town full of charm and character and after your shopping why not rest those legs in one of the cafe's overlooking the square and the main 13th century Church, The vaulted church is twin aisled, decorated with unusual 18th century porcelain plates and is dedicated to the Virgin Mary.
I recommend an Iced Frappe in Paralimni great to sit and watch the world go by….That is the life
8. Famagusta Viewpoint and Zoo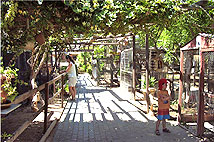 The Historic city of Famagusta is on the east coast of the island and has been under occupation of the Turkish army since August the 15th, 1974 about 38,000 Greek Cypriot inhabitants were forced to flee their city and take refuge in the rest of Cyprus.
Today, it has been left as a ghost town and at the viewpoint (a five minute drive up the road) you can see the Famagusta ghost town and read about all the history, it is a very enjoyable educational day out.
Also there is a small zoo here consisting of birds, snakes, camels, and animals situated in the beautiful lemon groves, There is a small outside park with climbing frames for the children where they can purchase an ice cream and have an afternoons play.
9. Beaches and Coves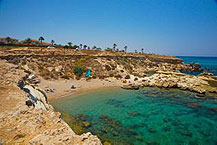 Cyprus is famous for its crystal clears waters and beautiful coastlines, Villa Athena is fortunate to have a number of beautiful sandy coves all perfect for families with shallow worm water safe for children and perfect for snorkeling.
Fireman's cove is the closest to Villa Athena, to the right of firmans cover there is another cove that can often be a less busy. Further down you can find watersports.
Another beautiful nearby beach I would definitely recommend is Cape Greco beach which hosts most water sports. It is so idyllic with it's sandy cove surrounded by cliffs a perfect place to relax with a good book!
Nissi Beach is more lively with a host of lively bars playing music. It also has waterstorts and is situated in the nearby resort of Ayia Napa.
All beaches have red-buoys indicating where it it safe to swim, Swimmers must adhere to the lifeguards instructions at all times
10. Boat Trip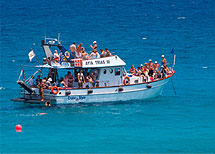 There are lots of boat trips acrross cyprus from low key sunbathing and snorkelling trips to diving boat trips and for families there is the famous Pirates of the carribean boat trip with its own captain jack sparrow and Squid face! the children and the adults will find this a great day out!! If you are experienced you can charter a boat on hire locally.